Will C. Crawford Senior

High School




Class Of 1968
Welcome to the OFFICIAL Crawford Class Of 1968
Classmate Registration Web Site
This is a private class website where you can find classmates, communicate/contact them and input your profile/contact information
email: crawford68@gmail.com
Official Class Website: http://www.crawford68.com
Face Book page: Class of 1968 Face Book Page
COLTS! 50TH REUNION!
PLACE: Lafayette Hotel, 2223 El Cajon Blvd. San Diego, CA 92104
SCROLL DOWN FOR ANNOUNCEMENTS!
---
---
ANNOUNCEMENTS
********************
----> Share hotel room cost
----> Message:

...I am interested in staying at the Lafayette Hotel Sept 28th and 29th. I have two other classmates and we are looking for another to split the room. If you know of anyone that would like to stay with us please let me know. I noticed that some of the rooms may be saved for us during the reunion. Thanks
******************************
​*****************************************
It takes $$$$ (MONEY) & EFFORT
to run a successful reunion.
If you enjoyed the 2008 & 2013 Reunions,
please consider donating to the 2018 Reunion.
Help make the reunion happen! All funds go into our class checking account
and Greg Estep, our Treasurer guards those funds to make sure
they are used for our class reunions only.
email: crawford68@gmail.com or
Thank you so much for your donations!
​*************************************
Happy New Year!
Please update your class profile at http://www.crawford68.com and let us know what you are doing.
(Please note that you will get this email whether or not you have already purchased a ticket.)
If you buy one via PayPal you will get an email from PayPal when the ticket is purchased.
If you send a check, send it to Greg Estep, 5621 Spartan Dr, San Diego, CA 92115 then I will send you an email acknowledging your purchase.

See all of you at the event.
More info will be coming out in February, but don't wait, buy that ticket now.
Here is the information as of January 2018 for purchasing tickets.

To our fellow Colts - Class of 1968:

We are looking forward to celebrating our 50th on September 28-29, 2018.

The planning committee is hard at work to make for our Reunion great. We have signed the contract for the Saturday night venue, the historic Lafayette Hotel's Mississippi Ballroom.

Click on this link for the Reunion details:
http://www.crawford68.com/CHS-50th-Reunion-2018.htm
It also explains the option of sending a check instead of using PayPal.
Your ticket covers both of two events: Friday night and Saturday night.
Each person attending any event needs to have a ticket;
so for a couple attending, you will need 2 tickets: Choose that option!

Click on the link to purchase tickets:
http://www.crawford68.com/50th-TICKETS.htm

. We are working with the hotel on securing a discounted block of rooms...
more details and rates when we finalize this.


OLD COLTS ON THE FARM!
Friday Night - September 28, 2018 -
Location/Map to be announced/given to ticket purchasers
INCLUDED in the price of your reunion ticket!
A Friday Night of FRIENDS, FUN, FOOD & DRINK!
Please use designated drivers for those drinking alcohol
Heavy hors d'oeuvres - Bring your appetite!
Non-alcoholic beverages will also be available.


SENIOR TO SENIOR IN 50 YEARS!
Saturday Night, September 29, 2018 - 5:30 to 10 pm
Join us for a special and fun evening at the historic Lafayette Hotel in San Diego, CA
Appetizers, Dinner, and Dessert (Catered by Hotel), Music, No Host Bar, Raffles
Bring CASH to buy RAFFLE TICKETS & to purchase bar drinks, sodas, and bottled water.
Please use designated drivers for those drinking alcohol
Non-alcoholic beverages will also available.


Thanks to all that are signing up early.

We are looking forward to seeing all of you at the Reunion events,


Greg Estep
and your 50th Class Reunion Planning Committee
****************************
Remember the Ventures? An instrumental rock band from the 60's. Their biggest hit was "Wipeout", but their first hit was "Walk Don't Run".
Their original 17 year old drummer left the Ventures after 8 months to join the Air Force. His name, George T. Babbitt. He became a Four Star General. He came back in 1998 for a reunion with the Ventures to play "Walk Don't Run" again.
This is pretty cool; it will make you smile.
Your reunion Committee 2018
Executive Officers
President: Cyndi Jo Mitton Means, Friday Night Bash
Vice President: Kathy Taylor, Budget
Treasurer: Greg Estep, Music
Secretary: Kathy Taylor (Acting Secretary), Accomodations
Members: Nancy Adams (Hallowell, Sallee), Decorations
Phil Aranoff, Co-Chair Lost Colts.
In Memory Display
Jim Clark, Co-Chair Lost Colts
Pam Flores, Decorations
Irma Groot, web admin, volunteers
Steve Ko, web admin
Nancy Turskey (Calkins), Decorations, Raffles
Dahlia Bokow Zalk
Donors 2018:
Reunion Volunteers: CJ - 1 child
Irma - 1 child
Bev Lachman & Marsha Kern
Greg - 1 child
GOAL for 2018 reunion:
90% + of classmates found!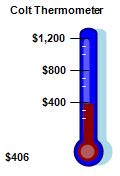 Here's where we are: 406 REGISTERED Colts (and climbing!)
Tell your 1968 Classmates to REGISTER!
[actual Colts we have current information on: > 500]
---
---
WHO SAID/DID WHAT??? THEY DID NOT!!!

Yes they did!

and HERE is the G O S S I P
---
8/13/2011 EXECUTIVE NAP!

At the executive committee meeting..... we waited and waited and.......FINALLY called to see where the missing member was.....
Irma: Hi Jim, what are you doing?
Jim McElwee's response: I am taking a nap..........

(oops!)
---
6/5/2011 What is WORSE than putting someone who has not passed away into the "In-Memory" category?
answer: Having the CHAIR of the HOOVER 68 Reunion Committee bringing your attention to it!
---
5/31/2011 Irma Groot innocently reminded Dan Ash and Steve Ko to put in their 12/2010 donations into the DONATION CHALLENGE so it would be counted in the survey results. Simple? You'd think huh? NOT!
Dan's response: What is a "donation challenge"?
Jim McElwee's response: I think it has something to do with bowel movements
---
---
Classmate Fun Times
11/28/2011 - From Scott Shaw
http://www.act-i-vate.com/100-18.comic
_________________
7/1/2011 posted on the Class of 1968 FB page by Mark Elson
https://www.youtube.com/watch?v=Grj7sjQ0_p4
The Beach Boys on the Red Skelton Show!
_________________
4/22/2011 - From Scott Shaw

Inline Image Not Displayed
http://www.act-i-vate.com/100-13.comic
_____________
4/15/2011 - From Jack Valentine with compliments:
---
---
OTHER IMPORTANT INFORMATION
6/5/2011 - The infamous John Fry Productions needs no introduction. Here's the direct link to his Crawford Pages. ENJOY!
You can also subscribe to his Alumni Newsletter for $30/yr (the cost of printing and postage).
Here is also a link to the Colt Corral blog for those of you who like to keep up with alumni happenings!
Thanks John, for everything you continue to do for Crawford Alumni!
---
---
---
---
DONORS! Reunion 2013
Thank you so much for your donations!
MONEY MONEY MONEY MONEY

Cyndi Jo (Mitton) Means $300.00 5/31/2011
Steve Ko $250.01 12/2008 (Challenge to meet or beat to classmates!)
Dan Ash $250.00 12/2008
V I P S T U F F
Steve Ko Domain name www.crawford68.com for 10 years (APR 2011-APR 2021)
Cyndi Jo (Mitton) Means Friday Night Bash 2013
Irma Groot website
---
Help Support This Website by posting your ads on Back Page using this link! THANKS!
UPCOMING BIRTHDAYS